In the inaugural post of the Revaly blog, John Carrington talks about how the world of design has changed—for good.
Let's go back to 1982 for a moment.
You know, the year that Olivia Newton-John's "Physical" topped the music charts and E.T. the Extra-Terrestrial filled theaters.
In December of that year, a little piece of software called AutoCAD dropped.
Not every designer adopted it immediately, and plenty of folks still worked like this: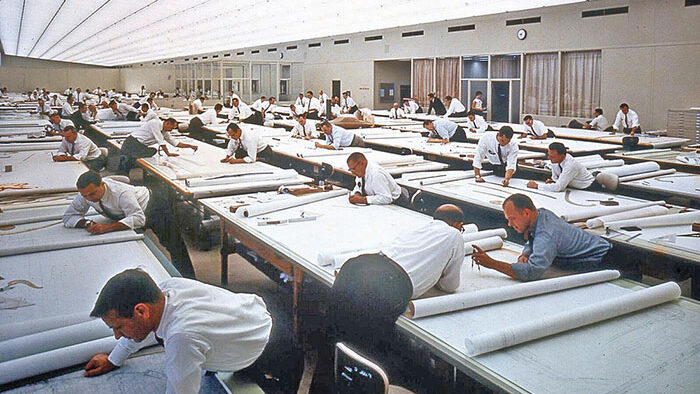 Apart from the employees' monochrome corporate uniforms in pictures such as these, one other element stands out from the image above: Everyone is working in person. As a result, they could easily give each other feedback, brainstorm new ideas, and make tweaks as needed.
You know, design stuff.
Design Today
Of course, it's not 1982 anymore. The way that we design physical objects is a far cry from the days in which everyone showed up in a physical office wearing white shirts and ties.
Of course, it's not 1982 anymore.
Even before the pandemic arrived, CAD engineers, executives, product managers, and other people involved with 3D design used a slew of applications and technologies to communicate and collaborate. In other words, for decades, product development hasn't taken place strictly in person. Like e-commerce, online education, and telemedicine, COVID-19 accelerated trends that were already taking place.
We're loath to give up our newfound flexibility at work, but the explosion of asynchronous work has brought with it a host of problems. At a high level, we can't just tap people on the shoulder and ask them a simple question. Tools such as Slack, Google WorkSpace, Microsoft Teams, and others act as powerful internal collaboration hubs, but make no mistake: they can't replicate the in-person collaboration experience.
Grammarly's report on The State of Business Communication was nothing if not illuminating. Among its findings:
Business leaders estimate their teams lose an average of 7.47 hours per week to poor communication. This represents almost one full workday.
Almost 3 in 4 business leaders (72%) agree with the statement: "My team has struggled with communicating effectively over the last year."
One in five business leaders (22%) reports lost business as a result of poor communication. The vast majority (86%) estimate the value of business lost to be $10,000 or higher.
In a word, ouch.
To be sure, different organizations suffer from different issues—and it's easy to understand the desire for a quick fix.
Unfortunately, when it comes to remote and hybrid work, one size doesn't fit all. Organizations will have to experiment with different technologies, processes, and policies. Lynda Gratton makes this point in her excellent book Redesigning Work: How to Transform Your Organization and Make Hybrid Work for Everyone.
I don't possess all of the answers about the future of work, but I know a thing or six about design.
We Can Do Better at Design
Far too many design reviews resemble the following process—a word that I use cautiously: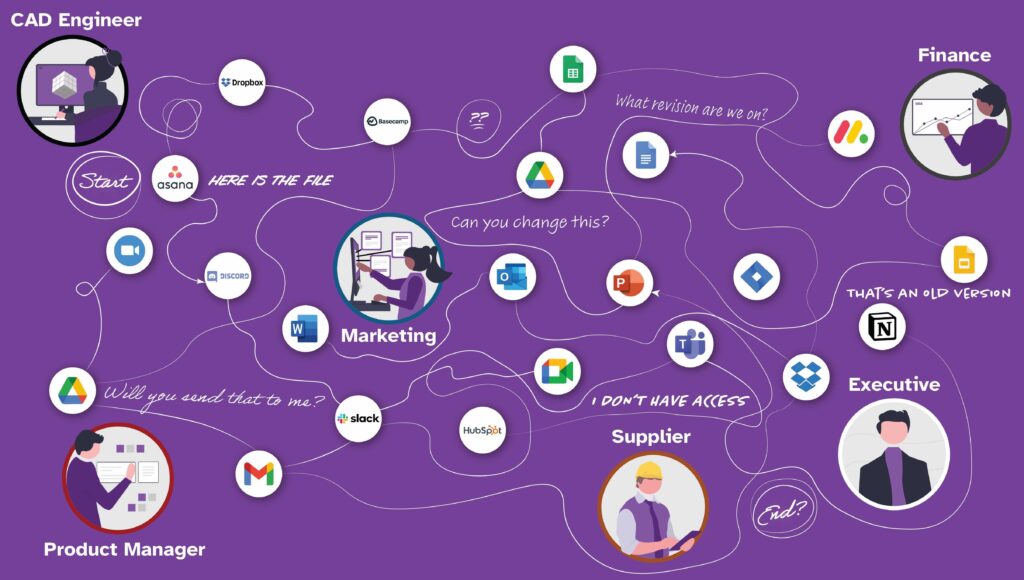 If it seems as if something could easily go astray, trust your judgment. This might seem a bit abstract, so let me make things a bit more real.
Not too long ago, I worked on a particularly thorny project that entailed designing a clear mask with replaceable filters—no small feat in an in-person, synchronous environment. Against a backdrop of distributed workforces, however, the project was downright chaotic. Specifically, it consisted of each of the following:
Four months of initial product design
75 design-review meetings
14 collaborators
3,000 e-mails
6,000 slack messages
250 hrs of Zoom meetings
100 slide decks
Think about the number of discrete communications, misunderstandings, and wasted hours that took place among the parties involved. It's not hard to envision time and costs savings of 50 percent or more. I shudder to think about such inefficient design processes. In these circumstances, employees are arguably more likely o become frustrated, burn out, and leave their jobs. Pew reported that nearly two in five employees cited working too many hours as a factor in their decision to quit their jobs.
There's plenty more evidence that employees are hankering for a more unified approach to design tech. Consider OnShape's State of Product Development & Hardware Design 2021. From the report:
Employees Are Seeking Improvement in the Technology They Need to Be Successful. When asked to prioritize the most important design processes critical to their firm's success, and then rank their firm's capabilities against the criteria, respondents revealed critical shortcomings or capabilities gaps. These gaps included "minimizing time spent on non-design-related activities" with a 42-percent gap; the lack of "early communication, visibility, and clarity" in the design process, as well as a significant challenge in "managing data." The takeaway? Users want to focus on the work and they are seeking access to the technology that connects the data and colleagues they need to do it.
Bottom line: Designers want to spend more time designing and less time coordinating.
Groundbreaking, I know.
Introducing Revaly
We at Revaly recognize that the future of work is decidedly hybrid and remote. The idea that we'll all revert to 1980s workplaces is laughable. AutoCAD may still be useful, but it launched in an era of in-person work—not a remote- or hybrid-first one.
Over the forthcoming months, expect plenty of provocative and informative posts about collaboration, communication, design, technology, and the future of work. I'll be frequently chiming in, but others will as well.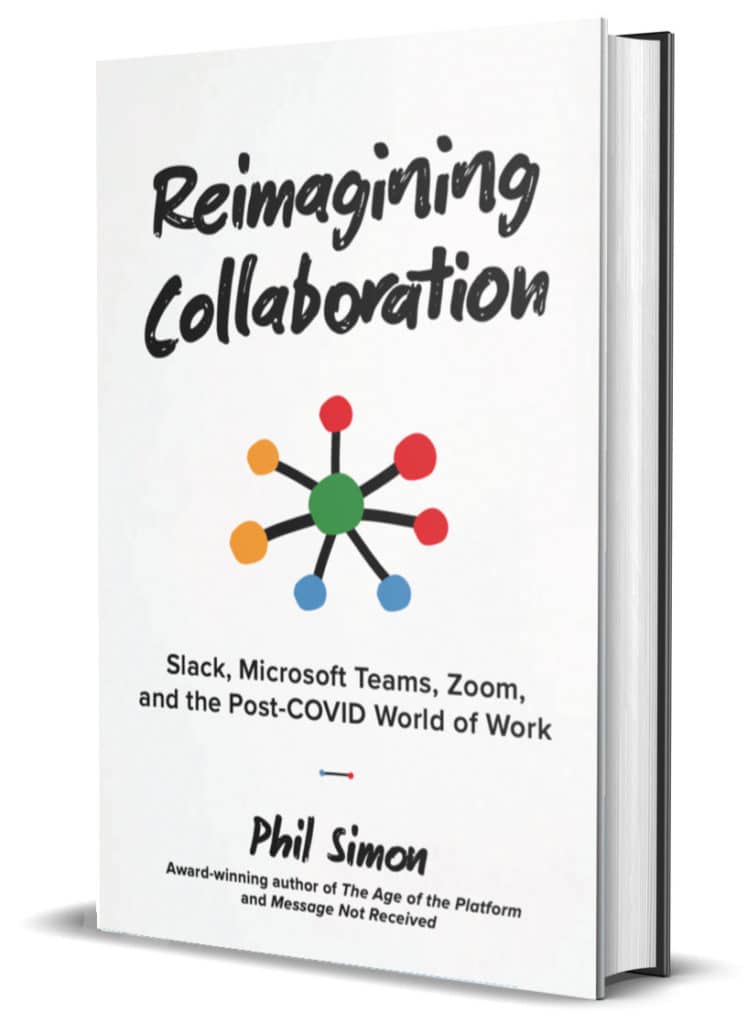 Among our most notable contributors will be award-winning author and recognized collaboration expert Phil Simon. His 2021 groundbreaking book Reimagining Collaboration: Slack, Microsoft Teams, Zoom, and the Post-COVID World of Work convincingly argues that teams, leaders, and organizations need to use workplace tech in a more cohesive manner.
The idea for a more holistic approach to design informs a great deal of our vision at Revaly. Splitting communication and collaboration among a slew of different apps, systems, and programs may have been understandable in the past, but we can do better.
Much, much better.
What's Next
Ideally, this blog will start meaningful conversations about design. Good design was never easy when we worked in person. Adding different locations and time zones into the fray only complicates matters. Ditto for soliciting the input of lawyers, executives, and other stakeholders with skin in the game. These folks may not be proper designers, but their input is often invaluable as products move to market.
I encourage you to respond in the comments with your thoughts.
Knowledge Base
Not sure how to do something in Revaly? Check help.revaly.com – we have guides and detailed information on how to get the most out of Revaly.
Want to join the team?
Like what you see here, and want to join the team? Check out our job openings on our Careers page.